If you think of something that should be added, feel free to drop an email.
Forwarding your UP mail to your CAUP mailbox
In the Outlook app, click on the settings icon on the top right of the screen (the cogwheel) and then "View all Outlook settings" and the bottom of the tab (Figure 1). It will open an overlaid window, in which you should go to the "forwarding tab" and enter your email of choice there (Figure 2).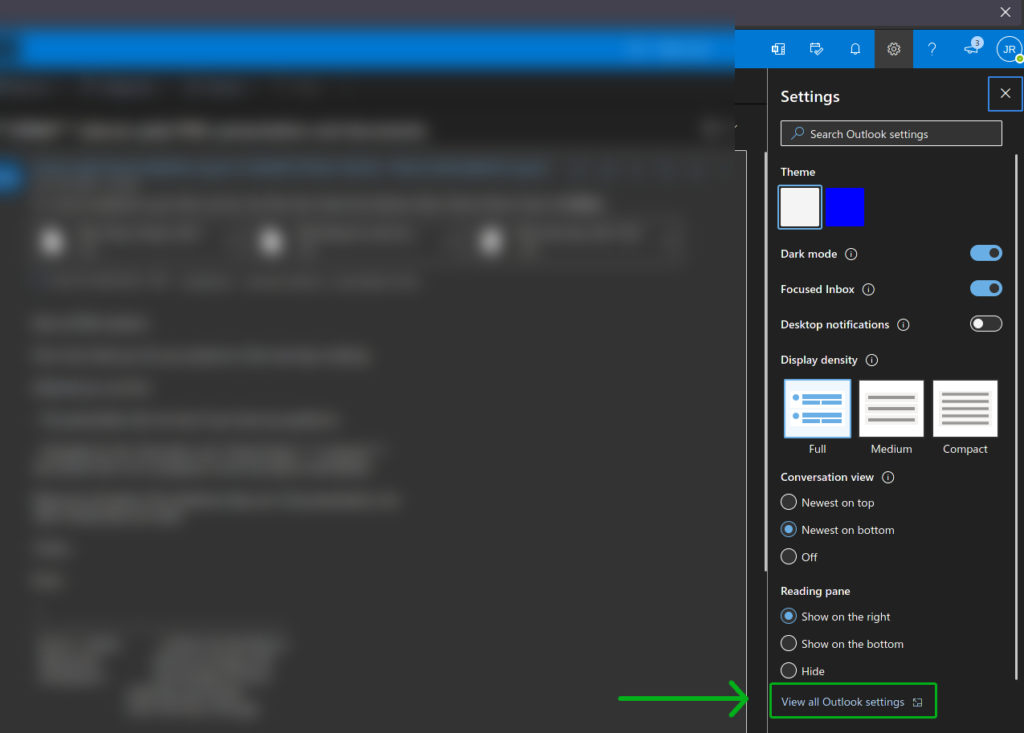 Back your data up
Ask yourself this question: When was the last time you backed your data up? Losing your data, and subsequently your work, can be devastating. Avoid wasting your time (and energy) rebuilding everything again by regularly backing up your data, be it physically (external hard-drives are becoming cheaper) or digitally. Upload your code to GitHub (https://github.com/), use overleaf as a LaTeX editor (and keep local copies of your projects in case your internet access fails). It might take you 10 min a day, but losing your data will take you more time. Once your hard drive fails, it's too late and the gamble is not worth it, trust me. Learning from mistakes is great, but they don't need to be your own. Learn from mine on this case.
New to LaTeX? Overleaf might be what you're looking for.
Overleaf (https://www.overleaf.com) is an online LaTeX editor allowing you to work on multiple devices and to share your projects with any collaborator. It also stores the projects "on the cloud" so you don't have to worry about losing your work. Its major downside is that it requires an internet connection, making it harder to work in the train or the plane.
Use a reference manager
There are multiple reference managers. They make reading, citing and taking track of papers (and even webpages) easier than just using your browser's bookmarks and can help you to access stuff offline as well and on multiple devices.
I personally use Zotero (https://www.zotero.org) which is multiplatform, as great browser integration making it easy to use and is open source, but alternatives exist, such as (not exhaustive); Mendeley (https://www.mendeley.com/) which is not open Source, but multiplatform and still free (as in beer) or Qiqqa (qiqqa.com) which is free and open source but only available in Windows and Android.
Feel to give them a go and use the one that suits you the most.
Looking for that paper? Try ADS!
SAO/NASA Astrophysics Data System (ADS) (https://ui.adsabs.harvard.edu/) makes it easier to look for papers in our field. The search function is powerful and citing is easy as it can export a BibTex entry for the paper you read. Some other useful features are the "Citations", "References" and (perhaps even more) "Similar Papers" tabs on a paper page.
* The article you want to read is behind a paywall? You cannot find it on https://arxiv.org/ ? Here's how you can access it anyway:
    – The lawful way: The fee you might pay to read an article goes to the publisher, not the researcher. Most researchers are open and kind people and would gladly send you a .pdf of the article they've written if you emailed them politely asking for it. Sometimes they might even recommend you more literature you might not know about. After all, it's always cool to share research interests with people, and they were in your place before.
    If you need it urgently or are afraid to "bother" someone you might not know. Don't fear, Sci-Hub (https://sci-hub.se/) is here for you! Just be aware of the ethical considerations of using it and proceed according to stay aligned with your values; Sci-Hub is a pirate (ie. illegal) library and, even though some credentials were donated by users, use personal login information obtained through phishing (https://crln.acrl.org/index.php/crlnews/article/view/9457). Sci-Hub fights for Open Access to science for anyone, regardless of social and financial status, gender or origin, and advocate against publishers making huge benefits by restricting access to knowledge to the public (who typically funded it). It is supported by user donations.
 

Discord server for students
There is an informal Discord server for students where we can share our experiences, help each other, share useful stuff or just get to know each other. We also try to have some "regular" meetings if you're interested. Don't be afraid to join us if you're a Master's student, you're welcome as well!
If you're interested in joining us, drop me an email and I'll send you an invite link.
Don't be afraid to ask for help
Don't be afraid to ask for help. The odds are, someone went through the same issue you're stuck with and can help you to solve it. If no one ever solved it, another point of view might bring a very interesting insight, and you'll both learn something. We're lucky to be part of a team full of competent (and kind) people. You won't regret asking for help, but the opposite is not necessary true. Once again, "Older" students were in our place. We're all humans, and humans and not foolproof. Don't be afraid to make mistakes, just take them as opportunities to learn 🙂
Mental health matters.
There is no shame in taking care of your mental health. If you need to reach out, feel free to contact me or someone you trust (this could have been under "Don't be afraid to ask for help"). Odds are that you're passionate about your subject and that you invest a lot of yourself. Don't feel guilty if you struggle, research is not an easy task and everyone can go through a hard patch. If you want/need to see a professional and don't know where to look for, it is available at SASUP (https://sigarra.up.pt/sasup/pt/web_base.gera_pagina?P_pagina=265749). You wouldn't run a marathon with a broken leg. Take care of yourself and make your PhD enjoyable, the experience is great and I wish you to have a good time in the years to come.
Some resources are only available in Portuguese
Portuguese people love their language. One of the consequences of this is that, unfortunately, some necessary forms are only available in Portuguese, for example the form to book an appointment at SASUP, which is not translated in the English version of the website. The DeepL translator (https://www.deepl.com/translator) is usually quite good at translating Portuguese to English, and might be a good tool to have at hand. However, it might sometimes be worrisome to rely on an online tool for critical documents or forms. Keep in mind that most collaborators of IA are lusophone and could give you a hand if you ask kindly. 🙂